AGENTS
Born in Brooklyn with 4 generations of family in Carroll Gardens, Vanessa is the quintessential Brooklynite. Licensed for over a decade; she has built a solid foundation of trusting relationships with homeowners, renters, buyers and sellers. Through her innate talents Vanessa has created lasting bonds and a forever expanding network of people in multiple facets of the community.
Vanessa was raised in part by her grandmother, a community activist and founding member of the 1st Tri-Block Association. Through her, a strong sense of responsibility and commitment to community was instilled. From an early age, Vanessa gained a deep familiarity with Brownstone Brooklyn and it's inhabitants, whom she feels, form the heart and soul of our local neighborhoods.
In 2005 Vanessa opened Twyford Real Estate to offer her neighbors and clients personalized care and undivided attention. Previously a top selling agent for a large company, Vanessa preferred a more intimate approach where she could carefully assess the needs of each client individually. To Vanessa, real estate involves human emotion and unique circumstances. She understands that it is not merely a transaction—it's about the people.
Vanessa's genuine and honest approach continues to be a breath of fresh air to the industry.
---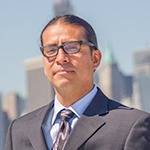 Associate Broker to Twyford Real Estate is Juan Carlos Bastidas. A former business owner with both Commercial and Residential R.E. experience, Juan has had the privilege to reach a broad spectrum of clients ranging from first time home buyers to multi-millionaire investors.
Licensed for over 12 years, his love of Brooklyn and passion for real estate make Juan Carlos a true complement to any team.
Juan is a natural at providing a welcoming experience for each client; regardless of their real estate needs. With his personal knowledge of buying and selling property, Juan has and continues to live life from both sides of the spectrum. His fluency in Spanish opens even more doors, giving him access to New York's ever expanding Hispanic Community. He currently lives in Park Slope with his wife and two adorable sons.
---
A native New Yorker, Gloria Rosa launched her career in Real Estate after years in the property management business in which she co-managed several properties throughout Manhattan. Thru the operation and oversight of property, she developed unique relationships with owners, landlords and tenants that led to an in depth understanding of their needs. Whether representing an owner or prospective tenant, she "speaks their language" and is sensitive to their concerns.
The leap into Real Estate was a natural one. Enjoying variety and interacting with people she has taken her background and market knowledge to broker commercial office, industrial, retail and multifamily properties.
Once affiliated with larger companies, she found them to be "transactional". Upon moving to Carroll Gardens, she fell in love with the neighborhood and discovered "The Heart of Brooklyn". A neighborhood like no other with distinct charm, character and beauty. A place where NYC chic, artsy, and trendy meshes with Brownstones and endless greenery. It's here where she's had the pleasure of joining Twyford Real Estate, a deeply rooted group with as much heart as it's neighborhood.
---